Blueprint
How your changed organisation will look
"How's it going to be different when I've made the change?"


The Blueprint is a clear, defined documentation of your changed organisation after completion of the Programme and delivery of the benefits.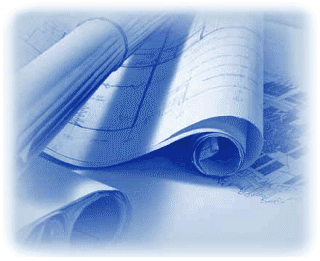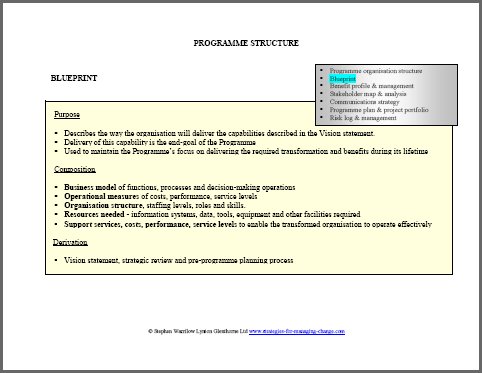 In other words - this is the capability - and the "where we want to be" - that you described in the Pre Programme Review and Planning process.
See this for an overview:
---
The Blueprint takes the review process further and provides a detailed description of what the changed organisation looks like in terms of:
Organisation structure, staffing levels, roles and skill requirements necessary to support the future business operations
Cultural changes and the specific definitions, characteristics, actions and behaviours that will define the new or changed culture
Business models of the new functions, processes and operations
Information systems, tools, equipment, buildings, required for the future business operations

The data required for the future business operations
Costs, performance and service levels for the support required for the future business operations
With the possible exception of the Benefits Profile, this is the single most important document in your programme.
It is used actively in a structured manner to maintain focus on the delivery of the new capability throughout the duration of your Programme.

8 FREE Introductory Lessons from Practitioners Masterclass - HERE
---

SAVE this WEB-PAGE as PDF for File or Print
---
---
---
Benefit Profile and Management Go back to - How to do it!
---