Sample Ad 2
Practitioners Masterclass
Leading your people through change, putting it all together and managing the whole messy business

"How will this help me - now?"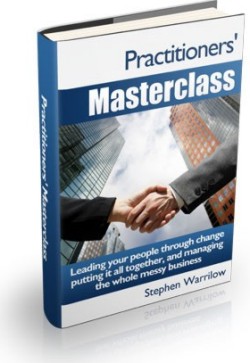 Keep your job
Quicker results
Challenge the bulls**t
Stay in the game
Handle imposed change
Overcome resistance
Know what works
Gain the advantage
Manage the messy stuff
Survive
Succeed
---
Having difficulties viewing this video? See it here on Facebook
You may download this video and/or the soundtrack via the links below, just right click then save:
Introduction to Practitioners Masterclass - Video (FLV)
Introduction to Practitioners Masterclass - Sound (MP3)
---
"An excellent single source document for those managing change"

[Mike Pollard, Business Analyst, Business Improvement Unit, Information & Communication Services, University of Dundee]
---
"A richness of content that is seldom brought together in such an integrated way"

"The book illuminates why the majority of change initiates fail, providing a clear guide for improving the likelihood of success.
The composite change model developed by Warrilow provides a contemporary meta-map for managing change successfully utilising some of the 'key' change models and approaches developed over the past 30 years.
I found the content first rate and intend to use the approach when planning change initiatives."
[Alan Geraghty, Change Practice Manager, Starfish Consulting, New Zealand]
---
Simple actionable steps for rapid results

"The section on Task Level Implementation is a jewel in identifying the steps for an implementation process.
This is a MUST HAVE resource for anybody or organization that is considering introducing change. Stephen, thank you for creating this valuable resource!"
[S.D. Policy Research Analyst, Provincial Government - Children & Youth Services]
---
Breaks new ground

"When I first did a web search and came across your site it was good to think that someone the other side of the planet was also having the same thought process.
The alignment of MSP and ADKAR within a single model is something that has been of interest to me for some time.
Your book has filled a void for me in the change management space."
[David Williams , Strategic Change Advisor, Australia.]

---
"Specifically how will I benefit from buying this book now?"

This book will dramatically reduce your 70% chance of failing - either as a change leader or a change survivor.
You will be shown what to ask and how to act NOW - for immediate results -

rapid results

can be key to your survival and success
You will be educated to challenge people and know what the right questions are to ask - a

key survival skill

You will understand the core and universal principles of successful change and how to adapt and apply them to your own organisation - to misquote the former US defence secretary - you will

know the "known knowns and the unknown knowns"

You will understand the strengths and weaknesses of popular change models - you will gain understanding of the holistic view- how it all hangs together - can I share a dirty little secret? No-one - not even Kotter or Bridges has a monopoly on change management "truth"... the key is

knowing what matters, when it matters

You will be equipped to challenge prevailing assumptions and to facilitate discussions with colleagues [up + down the line] - extremely useful when

your neck is on the line

You will have a language and framework to articulate sensitive issues - essential when

dealing with the messy stuff

You will have the tools to "health-check" your own plans for a change initiative - and the tools and processes - all ground out of hard painful experience - to ensure you don't make mistakes I have made - and that

you succeed

both personally and organisationally
You will gain insights into original perspectives, tools and processes never published before - ideal if you are a student or undertaking some form of higher business education - a

fast-track to a good grade

on your course.
---
"What experience is all this based on?"

Quite simply: I have been there:
Large messy projects

Small messy initiatives

Failed

Succeeded

Hit targets

Pushed through unpopular measures

Sacked people

Made people cry

Been reduced to tears myself

I have lived through management reins of terror

Worked for tyrannical numbers-obsessed bosses

Built teams

Implemented strategy

Facilitated change

Won friends in business and influenced people

In short, I've been there, seen it and done it - the good the bad and the ugly. I know what works and what doesn't - and why I have the scars to prove it.

---
Don't take my word for it

This ebook has been peer-reviewed by many people - academics, change management experts, CEOs, directors, trainers and consultants - it is credible. This book does exactly what it says on the cover.
---
"Gold Package"

Masterclass materials in the ebook format (as detailed above) comprising the complete Practitioners Masterclass & Quick Guide (this format is ideal for reference and a checklist)
Masterclass materials in 8 individual lessons format - sold as the "Surviving Change" package (ideal for paced learning and sharing extracts with colleagues)
The full 20 "Change Management Templates" - applying Masterclass materials (the real-life practical details of "How" to survive, manage and lead change)
5 Bonus Reports are included - see below for further details
A total value package of $321 worth of material
PLUS a further 5 High Quality Third Party Reports - see below for further details
---
5 Additional BONUS Reports
(1) "Dealing With Resistance to Change" - an easy to read 45 page summary reprint of an extended series of articles based on material from this site, includes: best approaches + guiding principles; facilitative leadership; conflict resolution tips; dealing with politics and silos; working with subcultures and informal networks; exercising influence without authority; and much more
(2) "Change Readiness Assessment" - an easy to read 34 page summary reprint of an extended series of articles based on materials from this site, includes: change management risk assessment - the context - risk vs. readiness; the 2 key parameters; key reference points and metrics; hard and soft tools; the "renewable leader"; leading a culture of "readiness for change"; change readiness questionnaires
(3) "The Tao of Change" - 6 key mindfulness practices outlined by Eckhart Tolle in "The Power of Now" - an antidote to the insanity of a constantly changing world.
(4) "De-risking Your Change Initiative" - a succinct 12 page report on how to select and use the most appropriatemethod of third party support.
(5) "Collected Articles" - a series of short articles addressing different aspects and perspectives on leading, managing and experiencing change - designed to stimulate thought and awareness and to provide background and context.
---
5 FREE Third Party BONUS Reports
(1) "Getting Them Through The Wilderness" - a Leader's Guide to Transition" by William Bridges – an extremely popular 21 page article
(2) "Change Without Migraines" by Rick Maurer – another popular and very easy to read 45 page ebook with an excellent section on dealing with resistance
(3) "Strategic Insights for Leading in Tough Times" - a Lane4 Research Report based on recent global research
(4) "Leading After Layoffs" - by Wendy Mack and Deanna Banks - a very insightful and practical perspective on "Best Practices for Re-Energizing Your Workforce"
(5) "Maturity Models Self Assessment" from the UK Office Govt & Commerce - this self-assessment questionnaire is one of a number of alternative ways for an organisation to begin to explore programme, project and portfolo maturity models. It introduces some of the core concepts such as the five Maturity Levels and seven process perspectives that are the foundations of this approach.
---
---