How To Win Without Succeeding - Tennis Lessons For Ordinary People


We Celebrate Success And Ignore Failure
Most motivational speeches have an anecdote that features how someone overcame tremendous odds and yet came home a winner.
The personal development and self-help world is steeped in case studies and analysis of success. Numerous studies have been undertaken on successful people to understand what it was that they did to become so successful, how they did it and when they did it - and we are led to believe that we too can achieve comparable success if we replicate this.
We are told by the self-help gurus:
"You can be anything you want to be, if you put your mind to it."
"Your thoughts have resonance and if you think enough positive thoughts for long enough, they will manifest.
But that is just not true.
This focus on success is very odd given that:
Success is the exception rather than the rule
Every scientific discovery, every new invention, every great innovation, every new idea of substance is the product of innumerable failures.
Most people do not realize all of their dreams. Most of the time, most of us fail. Hard work, skill, focus and persistence are not enough without the randomness of chance and the alignment of many factors, principally being in the right place with the right offering at the right time in the right environment.
For every successful business person there so many more who have failed - over 95% of new businesses fail.
Many people do not find the life-partner of their dreams.
Failure is the norm. Most of the time, your plans do not work out as you wanted them to.
Understanding Our Forgotten Failures
"The first reason to turn towards failure is that our efforts not to think about failure leave us with a severely distorted understanding of what it takes to be successful. " (Oliver Burkeman)
Here are some pointers to help you understand:
Where does all this leave us? The notion that you might fail can really slow you down. But it's not the failure itself that's the problem. The problem is your relationship with failure.
A good failure is a powerful learning experience.
So accepting your limitations, and embracing failure as an opportunity to learn, improve and grow, what next?
Well this is where you can gain valuable insights from the world of tennis.
---
Avoiding Stupidity is Easier than Seeking Brilliance
"Amateurs win the game when their opponent loses points, experts win the game by gaining points. " [Shane Parrish]
Simon Ramo, a scientist and statistician, wrote a fascinating little book in the 1970s: Extraordinary Tennis Ordinary Players. In this book Ramo identifies the crucial difference between the winner's game and a loser's game.
In his essay, The Loser's Game, and referencing Ramo's work, Charles Ellis calls professional tennis a "Winner's Game." While there is some degree of skill and luck involved, the game is generally determined by the actions of the winner
Amateur tennis is an entirely different game. Not in how it is played or the rules but, rather, in how it's won. Long and powerful rallies are generally a thing of the past. Mistakes are frequent. Balls are constantly hit into nets or out of bounds. Double faults are nearly as common as faults.
Over many years' of observation and analysis Ramo had concluded that there were 2 games of tennis. One game is played by the professionals and the other is played by the rest of us.
Ramo found that 80 percent of points in high-level matches between professional players were the result of winning shots and only 20 percent the result of unforced errors by one's opponent.
In contrast, the dynamics of matches between amateurs were reversed. Eighty percent of points came from unforced errors. An amateur player seldom "beats" an opponent; rather, the player who makes the fewest mistakes, who simply continues to keep the ball in play, usually ends up winning.
From Ramo's perspective, if you want to win at tennis, you have to adjust your strategy to your abilities.
For the "ordinary" tennis player, this means understanding that amateur tennis is a "loser's game" where success comes from avoiding losses.
The point is that most of us are amateurs but we refuse to believe it. This is a problem because we're often playing the game of the professionals. What we should do in this case, when we're the amateur, is to invert the problem.
Rather than trying to win, we should avoid losing.
---
Practical Ways Of Avoiding Stupidity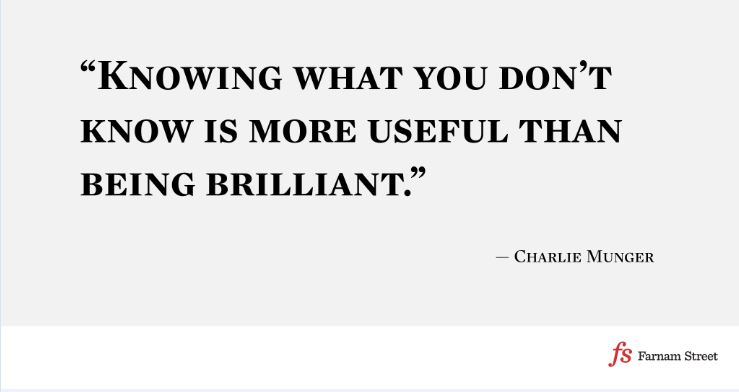 # NETWORKING & REFERRALS
Key Point:
Accept that just because someone you know and trust believes something to be true, does not make it so [until corroborated by market data] it just means that they genuinely believe it to be true.
Specifics:
Starting out
Due diligence is the start [and usually the end] of all new relationships.
Knowing the right questions to ask and asking them.
You are only ever as good as the weakest link in your/your buyer/supplier's end–to-end process - a major dependency and one to be identified ASAP.
Ask for and insist on process from the outset – see non-compliance as an early warning signal.
 First impressions
First impressions [instincts & intuitions] can be right.
Don't be over-awed or impressed by wealth, prestige and power.
Don't rely on people's own assessment of their worth – without corroboration from your own direct experience.
Don't rely on someone else's assessment of a person's worth – without corroboration from your own direct experience.
 Developing the relationship
The importance of: good communications, good relationships, controlling emotions and not burning contacts.
You really cannot truly know someone's strengths and weaknesses until you have been in action with them for a long time i.e. 12 months+
Knowledge is subordinate to results.
  Early warning signs
Identify early warning signals of "talk-walk" gap.
Look for early signs of those who "punch above their weight".
Be wary of people who are distrusting and overly protective of disclosure – they are often hiding something and/or untrustworthy.
Ambition in a partner is a good thing but identify early warning signals of people who: "don't know what they don't know, and don't know that they don't know".
---
# BUSINESS -> CHANGE/TURNAROUND/IMPLEMENTATION
Key Point:
Before instigating any action, and in addition to discussing this with your senior management team, hold informal talks as soon as possible with a small group drawn from the informal networks within your organization. Outline the challenges, give them the background and the reasons for the potential change and invite their views and feedback on how to proceed – and listen!
Specifics:
Failure to grasp that people need to be led through a change and they need a leadership style that is facilitative. "Bottom line – people who plan change rarely implement the plan." [Pat Zigarmi]
Failure to understand the change legacy i.e. what has and hasn't worked before – and why. "If you get that knowledge upfront, it can save you great grief and money later on." [John Kotter]
Failure to understand the role and critical importance of your informal networks. "Where the shadow and formal organizations come into conflict in a change situation, the balance of influence in the shadow organization will almost always win the day." [Neil Farmer]
Failure to understand and take full account of your organization's maturity. "Assess the maturity of their capability to manage process – weakness here can spell disaster when it comes to bringing in new systems." [Peter Duschinsky]
Failure to understand and take full account of your organization's cultures. "Culture eats process for lunch" [Jeff Cole]
Underestimating the complexity of the multiple factors involved in implementing a major change initiative and failing to use an appropriate change model and methodology. "Without adequate models, they try to implement strategies without a good understanding of the multiple factors that must be addressed, often simultaneously, to make implementation work." [Fevzi Okumus]
Executive detachment from everyday work impedes transition – senior management's failure to realize the human and emotional impact of their decisions and the need to provide transitional support. "These executives' detachment from the everyday work-work, which is so often defended as necessary to be 'strategic,' keeps these people from understanding what has to happen for changes to work as planned." [William Bridges]
---
# DECISION MAKING & EXERCISING JUDGEMENT
Key Point:
Understand and know how to avoid: [1] Cognitive Distortions - the psychology of human misjudgement; and how to apply [2] Mental Models.
Specifics:
The first and most obvious point is to understand and be fully aware of these cognitive biases and cognitive distortions.
Understand the power and pitfalls of Heuristics i.e. the mental short cuts that we all use all the time in everyday decisions.
Understand the forces at play, especially the boundary between knowing what you do know and what you don't know. Understand your Circle Of Competence.
When making important and significant decisions, invest the time to apply good Thinking Skills to the whole decision making process.
Pay particular attention to First Principles Thinking and Second Order Thinking
Understand and apply Mental Models
---
Here is how it all hangs together:
I have listed above - with references and resources - some examples of the significant areas in life and business where we can all take steps to avoid stupidity and increase our chances of learning from our mistakes and failures and in so doing increase our chances of winning by losing less. There are many more.
Feel free to contact me to discuss further if any aspect of this resonates with you.
---
Return to: Change Management Articles