Myers Briggs Personality Types
Why understanding type differences is so important in change management
The Myers Briggs [personality or psychological] Type Indicators are based on the theories of Carl Jung, which he developed to attempt to explain the differences between normal healthy people.
Based on observations, Jung came to the view that differences in behaviour are the result of innate tendencies of people to use their minds in different ways.
This is a brief introduction and an overview of the Myers Briggs Type Indicators and their significance in relation to individual differences, and how this applies in change leadership and management.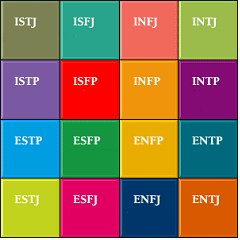 This is a subtle, complex and dynamic method and needs to be applied and administered in practise with trained accredited support. I recommend the Myers Briggs Foundation for full information.
---
---
Less than 1 in 50 people think like you do
Given that the typical Myers Briggs type of a business leader [ENTJ] is only shared by approximately 1.8% of the population [based on estimated percentages of the 16 types in the American population using inferential statistics based on a random sampling of 3009 people culled from a total pool of 16,000 in 1998] then less than 1 in 50 of your people will think in the same way you do.
As leader of a change initiative, you face the difficult challenge of getting your people to deliver your new change idea and achieve the organisational benefits that you anticipate.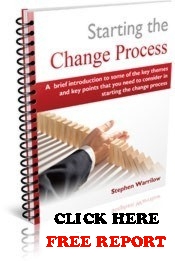 The reality is that people process information in very different ways. They also interpret life in different ways and are motivated by different things.
Although they will hear what you say when you outline your vision and strategy, and will probably agree with you, most of them are not able to translate all that into productive purposeful action.
This is not because they are stupid, and does not necessarily mean that they are resistant to it but it does often mean that the jump from vision and strategy to practical implementation is too big - without practical support.
So this means that during the early stages they need hands-on, detailed management, [even micro management on occasions] in the specifics of how to do it.
As change leader - it really is your responsibility to make no assumptions, and to "grind out" and communicate those actionable steps.
So often, this just doesn't happen. Leaders don't lead and managers don't manage. It is assumed that: "they've been told what to do and they'll go away and do it". Wrong! It is assumed that there isn't time and it isn't necessary to take the time to do this. Wrong again!
A significant aspect of successfully guiding your people through the implementation process is to take full account of their individual differences. By doing this you will stand a far higher chance of integrating these processes as the new modus operandi.
This may seem like a lot of work – and the truth is yes it often is! But it will prove a good investment of your time as you will dramatically increase your chances of success.
Even more pertinently, you also save you an inestimable amount of time, hassle and money in the future.
In summary:


---
More blind to this than we realise
I know this may seem obvious, and it may be so, yet over the years I have heard so many CEOs and directors complaining that their managers "just dont get it".
In my experience, most of us are more blind to this than we realise. And that includes me!
I worked with a guy as a close colleague and friend for 17 years and I could not figure out why he didn't grasp and respond to some of my ideas and initiatives. He is a highly intelligent, gifted and experienced businessman with great people skills and yet this was a significant source of friction between us for years.
It was only when I became acquainted with the Myers Briggs Type Indicators, a few years ago, that I saw quite clearly - for the first time - that our types were very different and thus we functioned completely differently, our mental processes were very, very different. Have you ever had a similar experience [or insight] into a lack of communication with a key colleague ?
---
The components of the Jungian types
Myers Briggs types are based on 8 basic mental functions observed by Jung.
The start point is that when people's minds are active they are involved in one of two mental activities:


He identified two ways in which people take in information, based on:


He identified two ways in which people process information, based on:


---
Jung also observed that people tend to be energised by one of two orientations:


Finally, Jung observed that people use these different functions in a form of hierarchy of preference, described by Jung as functions:


The Myers Briggs model brings these components together into 16 types.
There are many caveats and qualifiers as how all this is applied and they do not describe fixed states but rather dynamic preferences that can change and develop in reponse to changing environment and personal development.
I repeat what I said above, this is a subtle, complex and dynamic method and needs to be applied and administered in practise with trained accredited support. I recommend the Myers Briggs Myers Briggs Foundation for full information.
---
Summary of Myers Briggs Type Indicators
Just click on any link in the table below to open a summary and brief description of the type.


---
Books and Resources
All Books
Books
- Myers Briggs
---
Additional motivation resources on this site:
Define Motivation - Understanding the inner drivers
Motivation Theories - Getting people to take action
Maslow's hierarchy of needs - A paradigm shift
ERG Theory - Practical application to leading change
Herzberg Motivation Theory - Satisfied and motivated
Acquired Needs Theory - Goal seeking achievers
Process theories of motivation - Personal needs drive behaviour
Employee motivation techniques - How to achieve peak performance
Inspirational motivation - How to inspire your people in tough times
---
Are you ready to move beyond simply being informed about how you think to learning how to think and how to stop thinking?
Find out more about how to change your life :
---
---
---