Thich Nhat Hanh
Living in the present moment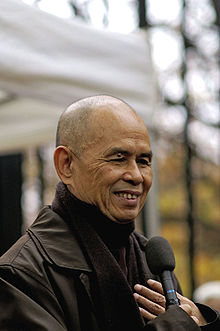 The key teaching of Thich Nhat Hanh is that with mindfulness, we can live in the present moment - instead of in the future or in the past.
Dwelling in the present moment is the only way to truly develop peace, both in one's self and in the world.
His teachings and practices appeal to people from various religious, spiritual, and political backgrounds, with his emphasis on mindfulness practices.
Thich Nhat Hanh is one of the best known and most respected Zen masters in the world today, poet, and peace and human rights activist.
Born in central Vietnam in 1926 he became a monk at the age of sixteen.
During the Vietnam War the monasteries had to face the question of whether to stay meditating in the monasteries, or to go out and help the suffering villagers who were experiencing the devastation of the war.
Thich Nhat Hanh chose to do both, and helped to found the "engaged Buddhism" movement.
He has dedicated his life to the work of inner transformation for the benefit of individuals and society.
---
---
In 1982 he founded Plum Village, a Buddhist community in exile in France, where he continues his work to alleviate suffering of refugees, boat people, political prisoners, and hungry families in Vietnam and throughout the Third World.
He has also received recognition for his work with Vietnam veterans, meditation retreats, and his prolific writings on meditation, mindfulness, and peace.
He has published some 85 titles of accessible poems, prose, and prayers, with more than 40 in English, including the best selling "Call Me by My True Names", "Peace Is Every Step", "Being Peace, Touching Peace", "Living Buddha Living Christ", "Teachings on Love, The Path of Emancipation, and Anger".
In September 2001, just a few days after the suicide terrorist attacks on the World Trade Center, he addressed the issues of non-violence and forgiveness in a memorable speech at Riverside Church in New York City.
In September of 2003 he addressed members of the US Congress, leading them through a two-day retreat.
---
"A feeling or an emotion arises, persists, and then disappears. Mindfulness enables us to be calm throughout the appearance and disappearance of feelings.
To acknowledge feelings with an even mind is the very best way; while we are acknowledging them in mindfulness, slowly, slowly we come to a deep realisation of their nature.
It is that insight which will enable us to be free and at ease as we face each feeling."
[The Blooming of a Lotus]
---
Resources
---
Additional meditation resources on this site
Mindfulness Based Cognitive Therapy
Mindfulness Based Stress Reduction
---
Return from "Thich Nhat Hanh" to Managing Personal Change