Up A Vietnamese Creek Without A Paddle!
by Stephen Warrilow
(Singapore/Vietnam)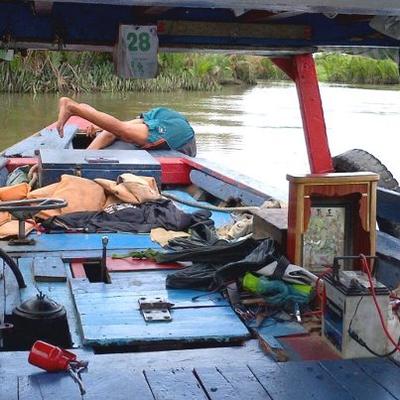 Change Management Lessons From the Saigon River
Recently I went on a trip up a creek feeding into the Saigon River it all seemed to be going so well - until the engine stalled - then the skipper disappeared over the side...

However, as you can see he was a resourceful chap, prepared for all eventualities with a toolkit, oilcan and an on-board shrine.

5 minutes later he triumphantly reappeared wet and bedraggled waving a fistful of foliage that had snagged the propeller, the engine spluttered back to life and we set off again.

Seemed to me to be a fairly apt metaphor for the messy business of change management:

(1) Be prepared

(2) Be resourceful

(3) Get beneath the surface

(4) Understand and accept that this means you will almost certainly get your hands wet and dirty

(5) Take full responsibility for bringing your boat safely back to shore...


---