Force field analysis
Assessing the case for change
Force field analysis is the creation of the American social psychologist Kurt Lewin, widely regarded one of the early 20th century founders of modern psychology, who developed the change model - known as "Lewin's Freeze Phases" - and which still forms the underlying basis of many change management theories models and strategies for managing change.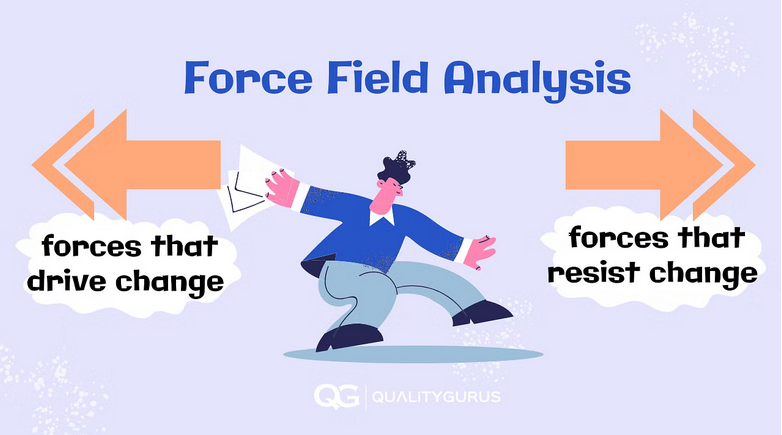 Given that the people aspects of change is the overwhelming issue and in the light of the catastrophic fact that 70% of ALL change management initiatives fail, it is painfully clear that managing the change transition requires time and sensitive skilful leadership - exercised within people-focused change management processes.
This can only be consistently achieved by addressing all of the key factors that will make it possible. Clearly what is needed is a change management process that is people oriented and that takes full account of the human dimension of the change process. In my view the programme management based model addresses all of these critical areas by focusing on a holistic approach that takes full account of these people issues.
Lewin's force field analysis work provides useful background and a practical tool for assessing the case for change – a necessary precursor for the creation and implementation of a programme based approach to managing change.
---
2 foundational concepts
So, underpinning his famous freeze phase model are 2 these important and in my view foundational concepts.

Firstly the "Lewin's equation", introduced in "Principles of Topological Psychology" [1936], which is not actually a strict mathematical equation showing quantifiable relationships, but rather a heuristic - an experience based or rule of thumb technique - for predicting human behaviour.
The formula states that B= f(P,E) where B = Behaviour, F = Function, P = Person and E = Environment. Lewin stated that behaviour is a function of the person and his/her environment.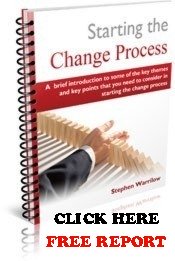 Thus the situational perspective of a person's present situation is the bigger key to understanding his/her behaviour instead of relying solely on past experiences and influences.
Lewin's second foundational concept was the previously mentioned "Force field analysis" which provides a framework for looking at the factors or forces that influence a potential change situation.
According to Lewin's force field analysis: "An issue is held in balance by the interaction of two opposing sets of forces - those seeking to promote change (driving forces) and those attempting to maintain the status quo (restraining forces)".
In Lewin's view, organisations can be seen as systems in which the current situation is not a static pattern, but rather an "equilibrium" - or "dynamic balance" of forces working in opposite directions. Thus, any change that may occur is dependent on a shift in this balance or equilibrium where the driving forces need to exceed the restraining forces.
---
Force Field Analysis - a brief description

---
A useful tool
In a potential change situation a force field analysis can be an extremely useful tool for assessing the possibility and viability of a change initiative.
Here are some suggested simple steps for making this assessment:
Where are we now?

Where do we want to be?

What will happen if we don't get there?

What are forces or drivers for this change?

What are the forces or drivers against this change?

What are the strongest forces for and against change?

Is change viable?

What will be the impact of changing and not changing?

The output of this analysis will establish the foundations for the business case for change and the input to programme based approach to managing the change.
---
Putting it all together and managing the whole messy business
I am a firm believer in "proper preparation and planning" and force field analysis is an integral part of that process.
I also firmly believe that it is worth making the investment of leadership and management time at the outset of a change initiative, to save an inestimable amount of time and resource with a rushed and ill-considered initiative.
---


8 FREE Introductory Lessons from Practitioners Masterclass - HERE
---
Change is a messy business fraught with complexity, multiple factors and many things that can, and usually do, go wrong. There are 3 broad areas that need to be included in any successful change initiative, namely:
Leadership that directly addresses the transitions and emotional dimension of those impacted by the change, and provides inspirational motivation

A change model and methodology that covers the multiple factors that must be addressed

Action management that shows and assists people with the specifics of exactly what is required of them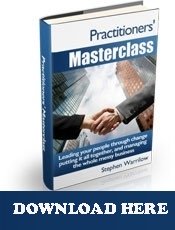 These are addressed in the "Practitioners Masterclass" which takes a holistic view of the key areas and shows you how to put all this into practise.
And all of this is examined, co-related and integrated with the other key areas leading your people through change, putting it all together and managing the whole messy business
To equip yourself, stay one step ahead with the tools and processes that will enable you to manage the messy stuff - check out the Practitioners' Masterclass [or click on the image to the right].

8 FREE Introductory Lessons from Practitioners Masterclass - HERE
---
Putting all this into practise
---
---
Return from "Force Field Analysis" to "Change Management Theories" Home Page
---
---