What is change management?
So how do we define change management....?
It's all about people - and processes that work for people!
What is change management - how do we define change management?
Change management is about how you take an organisation from Position A to Position B, in the fulfillment or implementation of a vision and a strategy and the whole art is to how to carry your people with you, so that the envisaged benefits of the vision and strategy are actually realised.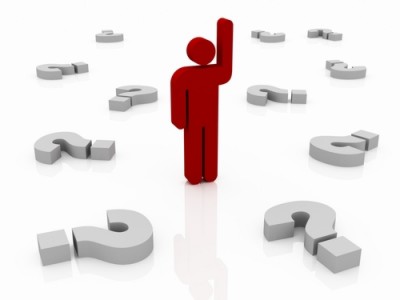 There are 2 quite different streams of thought that have shaped the practise of change management.
(1) The engineer's approach to business improvement with the focus on business process.
(2) The psychologist's approach to understanding human responses to change with the focus on people.
Given the popularity of Business Process Engineering - especially in the aftermath of the last recession - it is extremely interesting to hear what Michael Hammer co-author of "Reengineering the corporation" [and arch proponent and high priest of the BPR movement] now has to say on this subject:
"I don't regret saying anything [in the first book]; it's more what I left out. In particular the human side is much harder than the technology side and harder than the process side. It's the overwheming issue."
---
The single biggest reason for the astonishingly high 70% failure rate of ALL business change initiatives has been the over-emphasis on process rather than people - the failure to take full account of the impact of change on those people who are most impacted by it.
Don't take my word for it, hear what respected Harvard professor John Kotter has to say about the impacts of change.
---
Closely allied to that reason is the lack of process to directly address the human aspects of change.
What is change management?
At root, change management is about process and people.
But even process is just about people doing stuff... so ultimately it's all about people - and processes that work for people.
---
Research findings and lessons learnt
Prosci describe themselves as "the recognised leader in business process design and change management research", and the company regards itself as the world's largest provider of change management and reengineering toolkits and benchmarking information. [I have absolutely no commercial relationship or affiliation with Prosci whatsoever.]
They are the publishers of "Prosci's Best Practices in Business Process Reengineering and Process Design" which is based on research with 327 organisations world-wide.
The objective of this study is to provide real-life lessons from the experiences of project teams recently or currently involved in business process reengineering projects.
---
---
A programme management approach to change
The traditional project approach to "what is change management?" - sees it as a set of tasks which if executed successfully get a result. In other words the typical process led approach which has failed so consistently and so spectacularly over the last 20 years.
Throughout this site I am seeking to define the answer to the "what is change management" question by advocating and explaining a simple Programme Management based approach to managing change. This approach provides a structured but loose process that looks at the bigger picture of what is change management and especially the people aspects. I am advocating this because, based on my experience, I have found that:
It is holistic and takes a wider perspective.

It focuses you on addressing issues and aspects that otherwise get overlooked.

It addresses the people impacts and issues arising as a direct and indirect result of your change initiative.

It addresses the fundamental questions that people ask about how to define change management and that sit below the 'what is change managment' question: "What is changing, when and why?" and "How is going to affect me?" and "How are you going to manage this?"
---
Universal principles
The broad principles of how you approach any business initiative or any activity that may require or instigate change are universal:
Clarity in all areas
- especially of the business need for the change, of the specifics of the change, the benefits of the change, and most importantly the impacts of the change.

Communication - constant communication - two-way communication
- communication that explains clearly what is change management and what is happening or not happening and why.

Communication that listens actively and demonstrates to people that you have thought through the impacts of the change on them, and that you are prepared to work with them to achieve their buy-in and commitment to the change - by making it work for them.

Consistency
- in all aspects of the way in which you lead the change - manage the delivery - handle the communication - and ensure the realisation of the benefits.

Capability
- constant attention to the management of the tasks, activities, projects and initiatives that are delivering the capabilities into your organisation that will deliver the benefits that you are seeking.

Ensuring that your people have the full resources and capabilities they need to support them thro the change.
---
What is change management - incremental change or step change?
In this site- and especially in this section considering the question "what is change management?" - I draw the distinction between: incremental change, and step change.
---
Whilst these broad principles are universal it is very important to establish very early on whether or not what you are proposing can be regarded as incremental change and realistically can be accomplished within the constraints of "Business As Usual", or whether it is a step change and needs to be handled as a specific initiative - and with the appropriate level of senior sponsorship and practical support.
This is extremely important as you define change management in the context of your organisation.
The reason this is so important is because people are stressed, tired and generally fed up with change initiatives. They need careful and detailed explanation of what is change management - why the proposed change is necessary, and the direct effects on them and the benefits to them. They need help and practical support.
As an illustration of this - I was involved with an NHS Trust recently, and contrary to the board's initial perception of the reason for the apparent resistance and reluctance of senior clinical staff to embrace an initiative, the simple truth was that clinical staff did support the board's intentions - but they didn't have the time or energy to handle it.
What was needed was someone to own the initiative full-time and to "formally" recognise that this was a specific step change initiative that needed to be handled outside of hospital "business as usual".
---
People need to know WHY they need to change
In an interview with Kevin Green, People and Organisation Development Director, Royal Mail, he was asked what is change management and [on the basis of his considerable experience of change management] what was the key thing that smaller organisations needed to consider when embarking on a change initiative and seeking to define change management in a SME context:
The full interview with Kevin Green was recorded on 9th Jan 2007 and is available as a podcast what is change management at The Chartered Institute of Personnel and Development [CIPD] - the professional body for those involved in HR, Personnel and the management and development of people.
---
Key success factors
So, what is change management - but the careful focus on these key factors that will determine the success of your step change initiative:
(1) Determining that you are embarking on a step change that sits outside of business as usual and needs to be handled as a specific initiative
(2) The quality of leadership that you provide
(3) Using a programme management based approach to your step change initiative and very specifically to the process of how you define change management and what is change management for your organisation.
(4) The thoroughness of your pre programme review and planning process
(5) The extent to which you identify and address the cultural change in your organisation that is required to deliver the step change and the desired business benefit.
That is how I define change management - what's your view?
---
How to manage change in practise
What is change management if not a very messy business fraught with complexity, multiple factors and many things that can, and usually do, go wrong?
There are 3 broad areas that need to be included in any successful change initiative, namely:
Leadership that directly addresses the transitions and emotional dimension of those impacted by the change, and provides inspirational motivation

A change model and methodology that covers the multiple factors that must be addressed

Action management that shows and assists people with the specifics of exactly what is required of them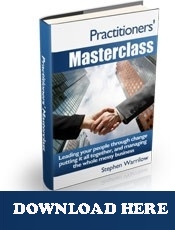 These are addressed in the "Practitioners Masterclass" which takes a holistic view of the key areas and shows you how to put all this into practise.
And all of this is examined, co-related and integrated with the other key areas leading your people through change, putting it all together and managing the whole messy business.
To equip yourself, stay one step ahead with the tools and processes that will enable you to manage the messy stuff - check out the Practitioners' Masterclass [or click on the image to the right].
---
Organisational change is inseparable from personal change
The scale and pace of change that is impacting organisations now is such that it increasingly pushes leaders (and followers) beyond their own capacity to handle it.
This scale and pace of change requires adaptive solutions. But this is only possible when we have either the personal capacity to do this, or have the self-improvement resources to help us.
We can't change because of our "immunity to change" or inner resistance.
Managing Personal Change - Resources HERE
---
Managing change within "Business as Usual"
---