Change management methodologies
Practical approaches to implementing change that deliver results and reap the benefits
Of all change management methodologies, the programme management based approach is the one most likely to ensure that you avoid the 70% failure rate.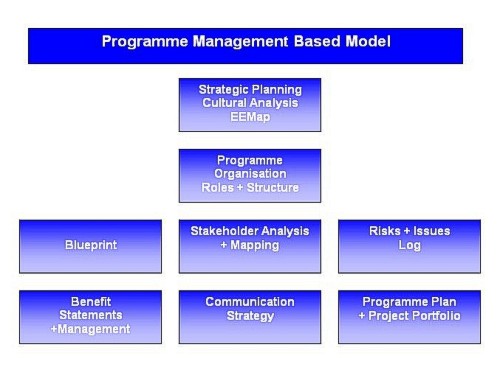 However, first a word about project management.
---
The role and position of project management
What is project management within the context of an organisational strategy? It is the dynamic management process that utilises the appropriate resources of an organisation in a controlled and structured manner, to achieve clearly defined objectives and to deliver a capability to meet an identified strategic need.
Project management and change management methodologies
In the context of a change initiative - what is project management? It is the delivery of the capability that with careful Programme Management will lead to the realisation of the business benefit envisaged in the organisational strategy.
It is important to stress that in the context of change management methodologies, whilst project management is crucially important, good project management alone will not guarantee success. There are more components.
Project management and programme management
What is also needed is a more holistic perspective – that takes in the bigger picture. This is what programme management provides via a supplementary framework for change management methodologies that takes the longer and wider view of the management of any and all other activities that are necessary to ensure the realisation of the business benefits.
Within the programme management process, project management is covered in the section The programme plan and project portfolio - see further down this page.
However, for readers who just want to look at project management - here are the direct links to that section:
Project management principles - 10 ways to make a project fail
Project management methodologies - 8 ways to succeed
Project management skills - 8 key factors
Project management maturity model

---
The primary purpose of this site
My objective with this site is to help you to address these 3 key powerful questions:
(1) What do I need to know?
(2) What works?
(3) How do I apply it?

Kick-start your progress with 8 FREE Introductory Lessons - HERE

Based on my own experience, it is my belief that the broad principles of programme management can be set out in a simple model and using simple language that can be applied to change management methodologies within any organisation of any size.
The model that I am outlining here is particularly suited to organisations in the 200 - 2000 employee range who have little or no prior knowledge, insight or experience of programme management.
However, it is important to emphasise that any organisation of any size or description, in any sector and in any geographic location in the world will benefit from a basic understanding and application of programme based change management methodologies because at root we are asking and addressing these simple questions:
(1) How am I going to manage all this so that it happens and I succeed?

(2) How's it going to be different when I've made the change?

(3) Why am I doing this - how's it going to benefit me?

(4) How will I know it's benefited me?

(5) Who's it going to affect and how will they react?

(6) What can I do to get them "on side"?

(7) What are the risks and issues that I'll have to face?

(8) What steps do I have to take to make the changes and get the benefit?
---
This simple model is not [and is not intended to be] exhaustive and the focus is very deliberately on:

(1) Pre-Programme Review and Planning - which is critical and if done properly will massively increase your chances of success.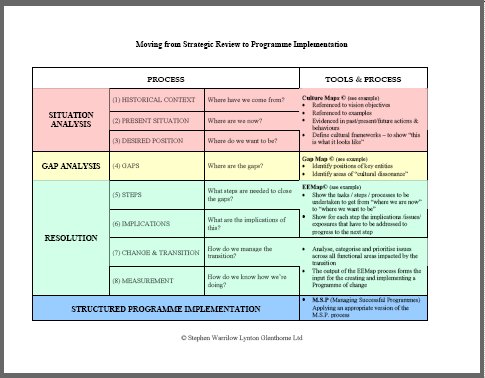 (2) A basic simple Programme Structure



[There are other elements that I have deliberately omitted that are not critical at this stage, namely Finance, Quality, Configuration and Audit.]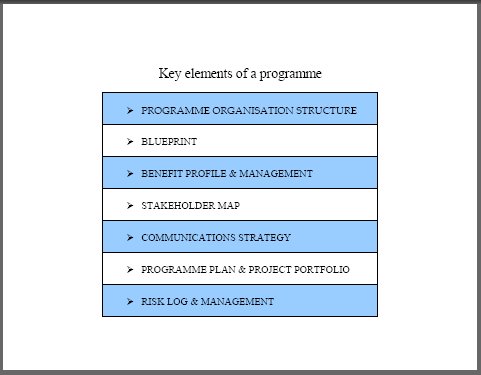 The focus at this stage is on establishing simple workable basic principles of change management methodologies, and I am assuming that good leadership and management skills can manage and eventually close the programme. [At some future point I will be developing this simple model further, to encompass the full life cycle.]
"A little knowledge... can be a very useful thing - but only if it proves the value of acquiring a deeper understanding."
I strongly believe and recommend that every organisation with 200+ staff should ensure that at least one senior member of the management team [with a focus on change management methodologies] is full trained in MSP [Managing Successful Programmes]. Full contact details and links are shown below.
---
Key Resources
Best Management Practice - MSP Managing Successful Programmes.Com Project Smart - Programme Management JISC Infonet - Programme Management Good change management models and effective change management methodologies need to take into account a wide range of complex factors.
Learn how to do this with 8 FREE Introductory Lessons - HERE
---
Recap: Why is a programme based approach to change so important?

This is now a good time for a quick recap on why programme based change management methodologies are so important and what they actually are, and the difference from a typical project based approach.
One of the best ways of mitigating risk and avoiding the 70% failure rate in implementing step change management methodologies is to apply a programme management approach to change management methodologies - because:

(1) It is holistic and takes a wider perspective.

(2) It focuses you on addressing issues and aspects that otherwise get overlooked.

(3) It addresses the people impacts and issues arising as a direct and indirect result of your change initiative.



---
2 Reasons why programme management evolved from and is distinct from project management
(1) Managing complexity across multiple projects
Programme management as a discipline evolved from project management. It evolved in response to the complexity of managing multiple projects simultaneously.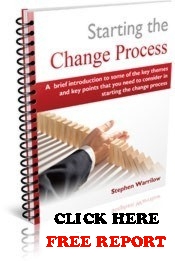 One early influence was the systems engineering approach to the development of complex products, developed during the cold war, and when the cold war became essentially a contest in creating advanced technology weaponry.
The military learned to think of weapons as systems that can be disaggregated into smaller subsystems and components, developed at the subsystem level, and then integrated into a final holistic system through a multi-disciplinary approach.
For major corporates managing large multiple projects, a programme managment approach will greatly facilitate the timely and successful delivery of these projects. And in this scenario, that alone is a good enough reason for using this approach.
However, the ability to manage complexity is not the only major benefit, and even when there is no great multiplicity of projects and complexity to manage, there is another excellent reason - and that is do with the holistic aspects that lead to benefit realisation.
---
(2) Realising the organisational benefits - from the delivery of the new capability
Another strand to the development of Programme Management in the UK has been the UK Government sponsored Office of Government Commerce, which has invested heavily in programme management.
It has encouraged the development of best practise through the vehicle of the successful and popular model "Managing Successful Programmes" [M.S.P.], and which has been used extensively in public sector organisational change programmes.
A major focus of M.S.P. [and which in my view takes it beyond the project focus from which it originated] is the realisation of benefits.
In other words, successfully delivering the new capabilities via a well delivered and coordinated "systems engineering/thinking" approach is no longer enough.
An M.S.P. based approach has as it goal, the full realisation of the business benefits [that will be derived from the delivery of the new capability]. In my view, this is a very big shift in emphasis.
It is this holistic approach that links vision to strategy and all the way through to implementation and successful benefit realisation.
This is why I have based so much of my whole approach to successful change management methodologies on a programme based approach to leading and managing change.
---
Programme Management
Is the holistic perspective - takes in the bigger picture.


Is the coordinated management of a Portfolio of Projects that change organisations to achieve benefits that are of strategic importance.


Is the understanding and management of Benefits, Risks and Issues and the provision of an Organisation Structure and Process Definition.


Does not replace Project Management - it is a supplementary framework


Differences between projects and programmes
A Programme is all about delivering the overall business benefits in line with the strategic vision and over a longer period of time than a project.


Whereas a Project has a definite start and finish point, with the aim of the delivery of an output that may be a product, service or specific outcome.


Programme management focuses on the management of all key stakeholder relationships and the delivery of defined business benefits and in addition to managing the project portfolio will also include the management of any other activities that are necessary to ensure a complete delivery.


Whereas Project management has narrower terms of reference with clear, specific and (relative to the overall Programme) limited scope of its deliverables.
Programme Management Maturity Models
Programme Management Maturity Model - An Overview
Programme Management Maturity Model - Full Length Version
Maturity Model - Self Assessment
Gartner Program Portfolio Maturity Model
---
Key factors to address BEFORE embarking on a change intiative
Change Management Risk Assessment
Change Management Implementation
Change Equation - INPACT Assessment
Leadership Qualities - Creating a Change Culture
---
All of the key management process steps to creating your change programme

For full details of each stage of Pre Programme Review and Planning and setting up a simple Programme Structure please follow each of the following links sequentially.
Before we move into the Pre Programme Review and Planning phase I would like to draw your attention to - and ask you to read - the section on Organisations and Culture [shown on the links below] as this really is the key to understanding the Pre Programme Review and Planning Process and getting the best out of your change management methodologies.

Organisations and Culture Pre Programme Planning and Review Create a Programme Programme organisation structure Blueprint Benefit Profile and Management Stakeholder Analysis and Mapping Communication Strategy Programme Plan and Project Portfolio Risk Management Programme Implementation
How to APPLY this in 8 FREE Introductory Lessons - HERE
---
Leading your people through change, putting it all together and managing the whole messy business
Looking at the bigger picture, the Practitioners' Masterclass Looking at the bigger picture, the Practitioners' Masterclass emphasises the need for change management methodologies that bridge the gap that exists [with most popular change models] between the high level "big-picture" strategic vision and a successful implementation at the front-line.
To fill this strategy–project gap, and as outlined above, I have adapted some of the core concepts and processes of programme management that directly address these missing areas, added a preliminary cultural analysis combined with a pre-programme review and planning process utilising my EEMAP process©, to create a simple, programme-based approach to change management methodologies.
This is broader in scope than a typical "project led", "task oriented" approach, as it addresses the human factors and deals directly with the commonest causes of failure.
Change is a messy business fraught with complexity, multiple factors and many things that can, and usually do, go wrong. Overall, there are 3 broad areas that need to be included in any successful change initiative, namely:
Leadership that directly addresses the transitions and emotional dimension of those impacted by the change, and provides inspirational motivation

A change model and methodology that covers the multiple factors that must be addressed

Action management that shows and assists people with the specifics of exactly what is required of them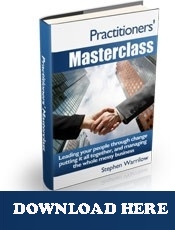 These are addressed in the "Practitioners Masterclass" which takes a holistic view of the key areas and shows you how to put all this into practise.
And all of this is examined, co-related and integrated with the other key areas leading your people through change, putting it all together and managing the whole messy business.
To equip yourself, stay one step ahead with the tools and processes that will enable you to manage the messy stuff - check out the Practitioners' Masterclass [or click on the image to the right].
8 FREE Introductory Lessons from Practitioners Masterclass - HERE
---
Organisational change is inseparable from personal change
John Kotter has said that the scale and pace of change that is impacting organisations now is such that it cannot often be planned for and it increasingly pushes leaders (and followers) beyond their own capacity to handle it.
This scale and pace of change requires adaptive solutions.
However, an adaptive response to change is only possible when we have either the personal capacity to do this, or have the self improvement resources to help us.
The inherent (and flawed) assumption in most training and work-related attempts at encouraging personal change (in support of organisational change) is that it is skills based, in other words we can be taught to change.
Whilst it is true that we can be taught, generally we won't change.
We can't change because of our "immunity to change" or inner resistance.
Managing Personal Change - Resources HERE
---
---
---