How to manage change
Executive summary - putting it all together
How to manage change? This section provides you with an executive summary of the key subjects covered in this site.
Experiencing change?
In the current economic climate, all organisations are experiencing the impacts of change and many could now benefit from the practical knowledge of how to manage change.
The content and presentation of the material in this site has universal relevance to organisations of all sizes and can be "scaled up or down" as you feel is appropriate to your organisation.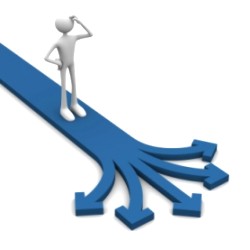 Change can be threatening and disruptive. It can also be very hard work because it usually involves adapting to a new environment, working practices or personal circumstances.
ACAS have created a guide that will help line managers and employers manage major change more effectively by focusing on the personal experience of change and what this can tell us about the kind of support employees need; and also showing how to engage with employees through regular communication and genuine consultation.
The Government Office for the South West (UK) have produced a very popular booklet "Managing Change" which includes a useful downloadable change management matrix.
Change management is a basic skill in which most leaders and managers need to be competent. This article takes a look at the basic principles of change management, and provides some tips on how those principles can be applied: ""Five basic principles, and how to apply them""
---
So what is change management?

At root, change management is about process and people.

But even process is just about people doing stuff... so ultimately it's all about people - and processes that work for people.

8 FREE Introductory Lessons from Practitioners Masterclass - HERE
---
The 3 main reasons for the 70% failure rate
Any organisational initiative that creates change - or has a significant change element to it - has a 70% chance of not achieving what was originally envisaged.


Failure may occur at project level [at the execution "getting it all together" level] so that the initiative doesn't get off the ground - or doesn't get completed.
This is where most people focus - on the "getting it done" bit.
But the bigger and more critical issue here is that even when the projects - the new capabilities - are completed on time and in budget, a failure can still occur at programme level - and from a statistical perspective it probably will!
A programme level [more accurately a "no programme" level!] failure occurs when the envisaged benefits [the whole raison d'etre] of the initiative are not achieved.
The root cause of this is lack of clarity and lack of communication about the people aspects of how to manage change - and even more fundamentally - the lack of a language and contextual framework to articulate and manage the necessary processes of change that will work for people.
This is what a Programme Management based approach to change is all about and why it so important. More on this below in "Methods of change".
See here for: The current state of UK change management
---
The 3 Keys to realising the benefits of change:
(1) Leadership
- The critical importance of the emotional dimension of leadership...
We speak of "change management" but in truth change has to be led as well as managed. This is especially true if it is a step change that need to be handled as a separate initiative outside of the constraints of business as usual. The style of leadership that is needed is a leadership that connects with people and that directly addresses what is important to them.
(2) Management Process
- The necessity for the holistic approach of a programme management based change process...
The management aspect of how to manage change needs to be much broader based that a typical project led /"task oriented" approach, to address the human factors and deal directly with the commonest causes of failure. This is why we place considerable emphasis on a programme management based approach regarding how to manage change.
(3) Actionable Steps
- Knowing how to translate vision and strategy into actionable steps...
At the "micro level" - day to day operational level of change management, we need to show people the specifics of what is required of them - and to assist them - especially during the early stages.
---

---

Key principles
Let's start with the universal principles of how to manage change and how you approach any business initiative or any activity that may require or instigate change:
Clarity in all areas, especially of the business need for the change, of the specifics of the change, the benefits of the change, and most importantly the impacts of the change.
Communication - constant communication - two-way communication that explains clearly what is happening or not happening and why, and that demonstrates to people that you have thought through the impacts of the change on them, and that you are prepared to work with them to make it work for them as well as you.
Consistency - in all aspects of the way in which you lead the change, manage the delivery, handle the communication and ensure the realisation of the benefits.
Capability - constant attention to the management of the tasks, activities, projects and initiatives that are delivering the capabilities into your organisation that will deliver the benefits that you are seeking. Ensuring that your people have the full resources and capabilities they need to support them through the change.
---
Key subjects
Key aspects of how to manage change
These are the key areas that we are going to review, full and extensive supporting information can be found across this site via the links shown:
Extensive download resources
This site is an informational site and as such is committed to providing you with concise information relating to all aspects of change management - that are practical and that you can retain and use both now and in future.
With that in mind, I have recently made several significant enhancements to the site.
There are now over 90 documents, reports, schematics, articles and checklists that can be downloaded directly from the relevant page on this site.
Every page on this site and every page on linked external sites can now be instantly converted into fully sized PDF downloads for filing, printing or forwarding to colleagues.
For full information on this see here: Free Download Resources
---
Leadership
Leadership styles - what is most effective in leading change?
[Is this more than just "how to manage change"?]
A focus on people before process is more productive than a task centred focus
Establishing the right balance between a task orientation and a people orientation
Adopting leadership styles that are appropriate to the level of development of the people involved
Leadership that in some way transcends short-term goals and provides meaning for people
Leadership that also addresses their deepest fears
Recognising the emotional dimension of leadership and that the leader's attitude and energy "infects" a workplace either for better or for worse
The importance of the leader's ability to articulate a message that resonates with their followers' emotional reality
Realising the direct link between the leader's style and business performance
---
---
Inspirational Motivation
How to inspire your people in tough times - inspirational motivation.
People will do anything if they accept the "emotional logic" - Win the battle for their hearts as well as their minds. - See this perspective from warzone Afghanistan.
The human brain is "hard wired" for survival and self transcendence
People work better together when they are allowed to socially interact with one another and are given supportive attention - "The Hawthorne Effect"
People will respond to their leaders efforts to connect with their emotional side
The need for recognition and approval is a fundamental human drive
The big leadership difference between being tough and being tough-minded
Work with and through the informal social structures of the workplace.
How to engage people when you don't have time
Define Motivation - Understanding the inner drivers that are required to get people moving to take action
---
Strategic vision
Strategies for managing change - 8 key steps to success on how to avoid the 70% failure rate
To make an effective step change and understand how to manage change successfully within an organisation, we need to:
(1) Understand the culture(s) - a process of cognition
(2) Be able to communicate and articulate the culture(s) and how we want to change it - and have the language and framework to do so
(3) Have the appropriate tools, techniques and processes to make the changes to the culture
Put very simply - you cannot make a step change [and realise the benefits] without changing the culture of your organisation.
---
Models and theories of change
Change management models and theories - How do they help in the current climate?
(1)The people aspects of change is the overwhelming issue
The concept of an emotional journey through a recognisable path of reactions and responses has been recognised and factored in to all modern models of how to manage change
Taking into account the psychological impacts of change and managing the transitions is key to how to manage change
(2) The programme management approach to how to manage change
In my view the programme management based model of how to manage change that I have detailed in this site addresses all of these critical areas by focusing on a holistic approach that takes full acount of the people issues
The programme processes of establishing a blueprint of the changed organisation, with clearly defined benefits of change and thorough attention to the stakeholder mapping and analysis will facilitate the creation of detailed communcation strategy that addresses key stakeholder concerns.
---
Methods of change
Change management methodologies
Of all the methodologies of how to manage change, the programme management based approach is most likely to ensure that you avoid the 70% failure rate.
Why is the programme based approach so important in how to manage change, and what is the difference from a typical project based approach?
(1) It is holistic and takes a wider perspective.
(2) It focuses you on addressing issues and aspects that otherwise get overlooked.
(3) It addresses the people impacts and issues arising as a direct and indirect result of your change initiative.
Programme Management
Is the holistic perspective - takes in the bigger picture.


Is the coordinated management of a Portfolio of Projects that change organisations to achieve benefits that are of strategic importance.


Is the understanding and management of Benefits, Risks and Issues and the provision of an Organisation Structure and Process Definition.


Does not replace Project Management - it is a supplementary framework
Differences between programmes and projects
A Programme is all about delivering the overall business benefits in line with the strategic vision and over a longer period of time than a project.


Whereas a Project has a definite start and finish point, with the aim of the delivery of an output that may be a product, service or specific outcome.


Programme management focuses on the management of all key stakeholder relationships and the delivery of defined business benefits and in addition to managing the project portfolio will also include the management of any other activities that are necessary to ensure a complete delivery.


Whereas Project management has narrower terms of reference with clear, specific and (relative to the overall Programme) limited scope of its deliverables.
---

---
Culture - why it matters
The reason why understanding your culture(s) is so important - especially in the context of how to manage change - is that it is the single biggest determinant of how people in your organisation will behave - and especially with regard to how to manage change in the context of a step change.




How to identify and unpack an organisational culture and sub-culture - in terms of:
Type of culture
A summary definition of the culture
Evidence of the culture - i.e. its characteristics
Key issues faced and addressed by that culture as can be seen in actions and behaviours
The areas of major focus - or key areas of impact - of the culture
---
Merger failures, value destruction, cultural conflicts - and how to avoid them
"Synergies"

"…little or no support was found for the hypothesis that mergers create synergies or that shareholders of both the acquiring and acquired firms share gains from these synergies."

Greatest risks to merger success are all people related

A study of 40 British companies, reported that all 40 conducted a detailed financial and legal audit of the company they intended to acquire, but that not even one of these same companies made any attempt to carry out an audit of the company's human resources and culture to assess the challenges concerning integration of the organization they were acquiring.

Cultural conflicts at the root of failure reasons

Culture remains one of the top post deal challenges with companies continuing to link post deal HR challenges with cultural complexity.

A very personal perspective...

Can you imagine civil engineers or construction companies or the people who build nuclear power stations - working on the same basis - where a 70% failure rate was accepted? Can you?

So why on earth should the world of business be any different?

How to avoid these risks of merger failures...

"Any proposed merger where directors have failed to identify and quantify the impact on those people most affected by it carries a high risk of failure. The numbers may make sense but have the political and cultural factors been assessed?"
---
Preparation - setting it up right
Pre -programme planning and review

Why do so many business initiatives and ventures needlessly fail to deliver the promised benefits and increases in shareholder value?
Any major business initiative or venture that fails to identify and quantify the impact on those people most affected by it carries a high risk of failure.
I have developed a diagnostic process called EEMap© that enables you to test the impact of your proposed business initiative or venture on those people most affected by it, to identify why it may fail and to establish precisely what has got to bedone to make it a success.
This EEMap analysis process will provide the input to the preparation and delivery of an executable programme plan and subsequently project plans.
The process is designed to:
Make you think deeply about your proposed change
To understand as fully as possible the impact it is likely to have
To work out clearly exactly how you are going to reap the benefits from thechange
There are three phases to the EEMap process:
Situation Analysis – that defines a cultural frame work for the company and will also identify all of the significant subcultures within the company that will assist or resist progress towards the business objectives of the proposed venture.
Gap Analysis – plots the positions of key entities within the company and highlights the gaps between this and where the directors say or think the company is, and where they want to be.
Resolution – shows the tasks, steps and processes that have to be undertaken. All implications, issues and exposures are analysed, categorised and prioritised across all functional areas impacted by the proposed venture.
---
Creating and running a programme
Key factors to address BEFORE embarking on a change intiative

"Soft" change readiness assessment tools
"Hard" change readiness assessment tools
Creating a change readiness culture
---

Of all the change management models theories and ideas discussed on how to manage change - how to create a programme that actually delivers the benefits - is the only thing that really matters in how to manage change. And that can only be consistently achieved by addressing all of the key factors that will make that possible - and that is the whole point of a programme.
Here are the key components of a programme based approach to leading a step change:
How to create a programme
"How am I going to manage [or lead!] all this so that it happens and I succeed?" [Programme organisation structure]
"Why am I doing this - how's it going to be different [Blueprint]
"How will I know it's benefited me?" [Benefit profile & management
"Who's it going to affect and how will they react?" [Stakeholder map]
"What can I do to get them 'on side'?" [Communications strategy]
"What steps do I have to take to make the changes and get the benefit of this change?" [Programme plan & project portfolio]
"What could go wrong - what are the risks and issues I'll have to face?" [Risk log & management]
A successful change programme results from a clear understanding of the key roles in how to manage change that are needed to make it possible, namely: Progamme Director, Programme Manager and Business Change Manager.
Each of these roles may be a full-time role or a part-time role. The deciding factor is the scale and complexity of the step change you are seeking to implement. The amount of time allocated to the role is at this stage very secondary to the fact that the role and process is fulfilled.
You will seriously jeopardise your chances of success if these roles and the processes inherent in the execution of these roles are not fulfilled.
The core steps and processes of creating a programme are outlined in detail in each of the following sections below:
Programme organisation structure
Blueprint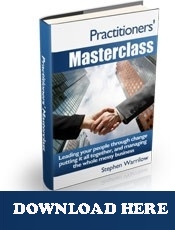 Benefit Profile and Management
Stakeholder Analysis and Mapping
Programme Plan and Project Portfolio
---
Organisational change is inseparable from personal change
Kotter has said that the scale and pace of change that is impacting organisations now is such that it cannot often be planned for and it increasingly pushes leaders (and followers) beyond their own capacity to handle it.
This scale and pace of how to manage change requires adaptive solutions.
However, an adaptive response to change is only possible when we have either the personal capacity to do this, or have the self improvement resources to help us.
The inherent (and flawed) assumption in most training and work-related attempts at encouraging personal change (in support of organisational change) is that it is skills based, in other words we can be taught to change.
Whilst it is true that we can be taught, generally we won't change.
We can't change because of our "immunity to change" or inner resistance.



---
Further information
For further information on how to manage change or any specific subject or word within this site please use the site search facility which is located on the site map

See here if you would like help with any aspects of how to manage change in your organisation.
For access to over 65 of my articles and 12 featured guest articles - see change management articles and resources
---