Change management process
Where to start?
Starting the change management process with a quick inventory of "knowing what I don't know" is a very good place to commence - because at root it all comes down to how you answer: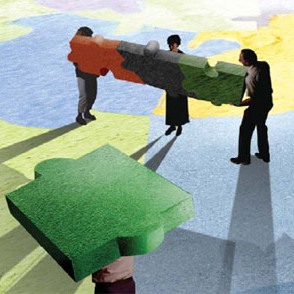 8 Simple Questions
(1) How's it going to be different when I've made the change?
(2) Why am I doing this - how's it going to benefit me?
(3) How will I know it's benefited me?
(4) Who's it going to affect and how will they react?
(5) What can I do to get them "on side"?
(6) What are the risks and issues that I'll have to face?
(7) What steps do I take to make the changes and get the benefit?
(8) How am I going to manage all this so that it happens and I succeed?
---
Site introduction
But first a few quick words about this site.
Specialist change management knowledge to a wider audience
As in any field of expertise, there are a relatively small number of experts with the knowledge and experience of change management and they tend to be employed by major corporates and the specialist consultancies that serve them.
However, in the current economic climate, most if not all organisations are experiencing the impacts of change and thus could now benefit from the wisdom and knowledge of the change management process.
Different sizes – different perspectives and needs
The owner or director of an organisation comprising 5 - 50 people has a totally different perspective and set of requirements to the director of a mid-range corporate with 500 employees; or to the programme director who is running a large complex programme - with a significant change management dimension - within a corporate of 5000 employees.
Target primary audience for this site
This site is primarily and specifically created for and targeted at:
The non-expert director of an organisation (or division or subsidiary of a corporate) with 200 – 2000 employees.


The director who is considering or implementing a step change (more on this in a moment).
Generic principles and tools
However, the principles, tools and resources in this site are generic and apply to any organisation that is starting the process regardless of its size, location or business sector. (This includes charities, churches and all other "not for profit" organisations.)
Scope beyond traditional methodologies
We also focus on the areas outside of the scope of traditional programme and change management methodologies to help you address key areas which cause failures, and to provide you with the insights to avoid them.
Positioning
There is a wealth of online information available on the subject of the change management process and implementation.
Rather than repeating and regurgitating much of this excellent material, my intention with this site - for my target primary audience - is to address as simply and clearly as possible these basic questions about starting the change management process:
What do I need to know?


What works?


How do I apply it?
---
4 key initial factors in the change management process
"It should be borne in mind that there is nothing more difficult to arrange, more doubtful of success, and more dangerous to carry through than initiating a new order of things."
Machiavelli "The Prince"

Starting the process of change is the easy bit! Making change management work and actually achieving what you set out to achieve – realising the benefits of your change initiative - is far harder.
Here are 4 key initial factors that will determine your best approach to starting the change management process:
The "Business As Usual" test
The size of your organisation
Your knowledge base
Where you are now
To take a closer look at these 4 key factors in starting the process, and to self assess your knowledge, see here:
Leading change - 4 key initial factors in the change management process.
---
Further resources
Leading Change - 4 Key Factors Failure Reasons in Change Management Recession Risk and Resistance - and How To Avoid Them Business Culture and It's Effects On Change In Your Organisation
Business Decision Making Process
---
Key factors to address BEFORE embarking on a change intiative
Change Management Risk Assessment
Change Management Implementation
Change Equation - INPACT Assessment
Leadership Qualities - Creating a Change Culture
---

---
The change management process is a messy business fraught with complexity, multiple factors and many things that can, and usually do, go wrong. There are 3 broad areas that need to be included in any successful change initiative, namely:
Leadership that directly addresses the transitions and emotional dimension of those impacted by the change, and provides inspirational motivation

A change model and methodology that covers the multiple factors that must be addressed

Action management that shows and assists people with the specifics of exactly what is required of them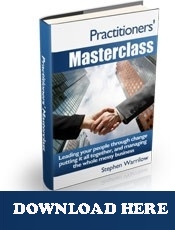 These are addressed in the "Practitioners Masterclass" which takes a holistic view of the key areas and shows you how to put all this into practise.
And all of this is examined, co-related and integrated with the other key areas leading your people through change, putting it all together and managing the whole messy business.
To equip yourself, stay one step ahead with the tools and processes that will enable you to manage the messy stuff - check out the Practitioners' Masterclass [or click on the image to the right].
8 FREE Introductory Lessons from Practitioners Masterclass - HERE
---
---