Sample Ad
Practitioners Masterclass
Leading your people through change, putting it all together and managing the whole messy business

"How will this help me - now?"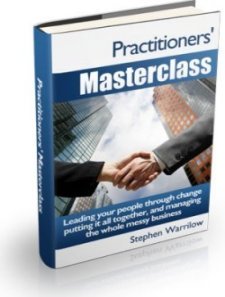 Keep your job
Quicker results
Challenge the bulls**t
Stay in the game
Handle imposed change
Overcome resistance
Know what works
Gain the advantage
Manage the messy stuff
Survive
Succeed
---
Don't take my word for it

This ebook has been peer-reviewed by many people - academics, change management experts, CEOs, directors, trainers and consultants - it is credible. This book does exactly what it says on the cover.
---
"An excellent single source document for those managing change"

[Mike Pollard, Business Analyst, Business Improvement Unit, Information & Communication Services, University of Dundee]
---
"A richness of content that is seldom brought together in such an integrated way"

"The book illuminates why the majority of change initiates fail, providing a clear guide for improving the likelihood of success.
The composite change model developed by Warrilow provides a contemporary meta-map for managing change successfully utilising some of the 'key' change models and approaches developed over the past 30 years.
I found the content first rate and intend to use the approach when planning change initiatives."
[Alan Geraghty, Change Practice Manager, Starfish Consulting, New Zealand]
---
Simple actionable steps for rapid results

"The section on Task Level Implementation is a jewel in identifying the steps for an implementation process.
This is a MUST HAVE resource for anybody or organization that is considering introducing change. Stephen, thank you for creating this valuable resource!"
[S.D. Policy Research Analyst, Provincial Government - Children & Youth Services]
---
Breaks new ground

"When I first did a web search and came across your site it was good to think that someone the other side of the planet was also having the same thought process.
The alignment of MSP and ADKAR within a single model is something that has been of interest to me for some time.
Your book has filled a void for me in the change management space."
[David Williams , Strategic Change Advisor, Australia.]

---
"Specifically how will I benefit from buying this book now?"

This book will dramatically reduce your 70% chance of failing - either as a change leader, change manager or a change survivor.
You will be shown what to ask and how to act NOW - for immediate results - rapid results can be key to your survival and success
You will be educated to challenge people and know what the right questions are to ask - a key survival skill
You will understand the core and universal principles of successful change and how to adapt and apply them to your own organisation - to misquote the former US defence secretary - you will know the "known knowns and the unknown knowns"
You will understand the strengths and weaknesses of popular change models - you will gain understanding of the holistic view - how it all hangs together - can I share a dirty little secret? No-one - not even Kotter or Bridges has a monopoly on change management "truth"... the key is knowing what matters, when it matters
You will be equipped to challenge prevailing assumptions and to facilitate discussions with colleagues [up + down the line] - extremely useful when your neck is on the line
You will have a language and framework to articulate sensitive issues - essential when dealing with the messy stuff
You will have the tools to "health-check" your own plans for a change initiative - and the tools and processes - all ground out of hard painful experience - to ensure you don't make mistakes I have made - and that you succeed both personally and organisationally
You will gain insights into original perspectives, tools and processes never published before - ideal if you are a student or undertaking some form of higher business education - a fast-track to a good grade on your course.
---